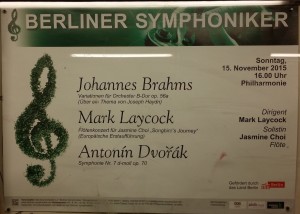 The Premiere of Mark Laycock's "Flute Concerto for Jasmine Choi" was given by the Buffalo Philharmonic Orchestra, with Mark Laycock conducting, on July 23, 2014, to a standing and cheering and 3 minute ovation at the Concerto's conclusion.  The European Premiere was given by the Berliner Symphoniker in the Berlin Philharmonie on November 15, 2015, also to a standing and cheering ovation.
The complete Flute Concerto for Jasmine Choi in the Sibelius electronic version can be found below
from the Buffalo Philharmonic Press Release:
FOR IMMEDIATE RELEASE
This concert features the world premiere of a flute concerto by composer and conductor Laycock, who will conduct this performance. Written expressly for Jasmine Choi, Songbird's Journey, centers around her spirit – a beautiful work that is highly melodic and displays her virtuosic skills. Well known to Princeton audiences, Mr. Laycock was music director of the Princeton Symphony for 21 years and now appears regularly with orchestras throughout Europe and the Americas.
Jasmine Choi is one of the most celebrated flutists of our time, having been critically acclaimed on international stages for her rich tone, technical brilliance, and charismatic stage presence since an early age. After having served as principal flute of the Vienna Symphony and associate principal flute of the Cincinnati Symphony, Choi has now moved on to a career as full-time soloist. Praised by the Korea Times as "The goddess of the flute," Choi's live performances and recordings are frequently broadcast on national television and radio.
What People are Saying
"The Buffalo Philharmonic Orchestra was honored to give the premiere of Mark Laycock's Flute Concerto for Jasmine Choi, "Songbird's Journey," this summer. It was a true highlight of our year and a performance very much embraced by the audience and musicians alike. Mark's writing for Jasmine is exquisite and takes the listener on a wonderful musical journey, one which I hope many more will experience over time! Bravo, Mark!"
Dan Hart, Executive Director
Buffalo Philharmonic Orchestra
"Mark Laycock's flute concerto fearlessly explores not only the
versatility and virtuosity of the instrument, but also seeks for the
vulnerable soul and the beauty of nature."
Jasmine Choi
Mark Laycock's "Flute Concerto for Jasmine Choi" is a fascinating and beautiful work, and a wonderful addition to the repertoire for flute and orchestra. My congratulations on a superb work!
JoAnn Falletta, Music Director
Buffalo Philharmonic Orchestra
Ulster Symphony Orchestra
Virginia Symphony Orchestra
Honolulu Symphony Orchestra
Mark Laycock's "Flute Concerto for Jasmine Choi" is lovely. I thought the first movement very charming, the second movement warm and poignant, and the third movement certainly takes us into another world. It is a lot of fun! My admiration for this major effort.
John Nelson, Music Director (former)
Ensemble Orchestral de Paris
Indianapolis Symphony Orchestra
Mark Laycock's "Flute Concerto for Jasmine Choi" is not only beautiful music but also quite a style of his own, which I find outstanding, to say the least.
Christian Buchmann, Managing Director
Wiener KammerOrchester
"I tremendously enjoyed listening to your work. It is on all accounts an extremely impressive composition. The ideas are strong, there's exactly the right sense of contrast and character between the three movements and the orchestration deliciously supports the character design of each of them. Congratulations and bravo."
Oliver Schneller, composer (C.F. Peters)
"My oh my! What an eclectic, challenging and transforming piece Mark Laycock's "Flute Concerto for Jasmine Choi" is! I can't wait to hear it in person. It's very unique and it defies any kind of "label" – it just seems like a tour de force! The cadenza at the beginning as opposed to at the end is very alluring. I'm listening again in my car when I drive to Baltimore tonight!"
William (Bill) Nerenberg
Director, Chesapeake International Artists
"Mark, Your Flute Concerto is delightful and fun to listen to – a mixture of musical idioms exploiting "flautian" (my own word) possibilities. Most enjoyable!!"
Peter A. Benoliel, Chairman of the Board (Ret.) The Philadelphia Orchestra
"In this convergence of conductor, soloist and ensemble teamwork, Mr. Laycock, Ms. Choi and the Buffalo Philharmonic presented a mid-summer treat of well-played and well-appreciated music.
The keynote piece of the evening was Mr. Laycock's own Flute Concerto, composed for Jasmine Choi, whose career Mr. Laycock has followed closely. Subtitled 'Songbird's Journey' and completed in 2013, this three-movement work drew upon the full virtuostic abilities of the prodigious Ms. Choi. In composing the work, Mr. Laycock drew inspiration from Ms. Choi's spirit, conceiving a piece that was 'beautiful and happy, sincere, fun to play and hear.' The first movement recalled pure late 18th-century counterpoint and musical style, with a soloist cadenza and almost operatic melodic lines. There were no sectional flutes in the ensemble; Mr. Laycock scored all the flute color and delicacy for the soloist. Ms. Choi played the joyful themes with clean runs, supporting the atmosphere of birds chasing one another. By moving the harp to a more prominent location within the violins, Mr. Laycock was able to add a tantalizing color and flavor to the music, and the movement ended as the bird flew away.
Mr. Laycock scored the second movement in a more somber and hymn-like manner, with walking strings as the songbird passed over, reflecting with the depicted monks on their daily prayerful walks. Throughout the work, Ms. Choi played with a great deal of physical energy and determination, fitting well into the majestic phrases.
Mr. Laycock subtitled the third movement 'suave et enfumè' ('smooth and filled with smoke'), implying an impressionistic jazz character. This closing movement did show tinges of early 20th-century French impressionism, but was also colored with Benny Goodman-style swing. The winds, including solo flute, all seemed to go in their own directions, as if the songbird had landed in a downtown New York jazz club. Marked by a great deal of well-executed syncopation and unusual breath effects from Ms. Choi on the flute, this movement effectively closed a work which fit in well with the Buffalo Philharmonic's mission of blending classical and cross-over music."
Princeton Town Topics
July 28, 2014
Program Notes
Laycock           Flute Concerto for Jasmine Choi, "Songbird's Journey" (2013)
scored for solo flute, oboe doubling on English Horn, 2 clarinets doubling on Eb and Bass Clarinets, 2 bassoons one doubling on Contra Bassoon, 2 horns, 1 trumpet, timpani, percussion, harp and strings.  Duration: 21 minutes
I first heard Jasmine Choi when she was a young teenager, and it was clear at that time that she was an unusually gifted flutist, who even at that young age had the ability, to my ear, to "turn the notes into liquid gold."  Over the years I attended her graduation recital at the Curtis Institute in Philadelphia, and we would stay in touch and occasionally meet to catch up while she was doing graduate work at Juilliard.  At one of those meetings I heard myself say, "Within ten years I will write a concerto for you."  Hearing those words come out of my mouth probably surprised me more than her, but there it was.
As more years passed, I would occasionally get an email from her asking about the concerto.  In April of 2013 I was in Vienna conducting the Wiener KammerOrchester and Jasmine was rehearsing with the Wiener Symphoniker in her position as Principal Flute.  When our respective rehearsals ended, we met for coffee.  When we sat down, the first thing Jasmine said was, "Well, you have two years left!"  Allowing for the possibility that she and my doctor knew something that I didn't, I said I would go home and get to work.  Time and life changes had by then allowed for the creation of her piece, which was finished over the next few months.
In thinking about the qualities to highlight in a new concerto, all centered around Jasmine's spirit, of which her playing is an extension.  The piece should be beautiful and happy; sincere; fun to play and to hear; and should allow for opportunities for her to display her incredible and virtuosic technical prowess, taking the instrument to – and beyond, if possible – its limits.
The first movement (Allegro moderato) begins with the only cadenza in the piece; otherwise it is very Mozartean, based on bird song and written in the standard classical sonata-allegro form.  After statements of bird song with flourishes from the harp, the orchestra enters for the first theme, presented by the solo flute and then taken up by full orchestra.  A short variation follows, transitioning to the second theme, crisp, clock-like, and marked "Proud and strutting!"  The development is largely a dialogue between the solo flute and first violins, suddenly sweeping upward to a new theme as if the songbird is soaring in flight.  The second theme returns for a virtuosic display, and birdcalls in the orchestra return us to the recapitulation, in which the "soaring" theme is superimposed over the first theme.
The second movement is titled, "Domine exaudi orationem meam" ("Hear my prayer, O Lord").  It begins and ends with a solo timpani roll on C, representing that which is eternal, never changing and never ending, to which prayers of all faiths are directed.  My mental vision was one of a solo voice alone in the wilderness witnessing a chorus of penitent monks approaching and then passing by, as she wishes for her own prayer to be heard.  With long statements, the full expression of the supplicant is depicted with the complete range of the flute utilized from its lowest possible to its highest practical note.
The third movement ("Suave et enfumé") takes us to yet another setting and with a different language and palette of orchestral color.  While the first movement allows for traditional technical pyrotechnics, and the second movement displays long, sustained phrases that require tremendous breath control and beautiful tone, the third movement's different world allows for contemporary techniques that show off the flute in three different ways: producing notes without actually blowing into the instrument (through a technique called "key clicks") supported by "tongue rams" where the tongue is forced against the mouthpiece; a similar technique that closes off the mouthpiece completely, allowing the performer to play notes that are below the range of the actual instrument (in these measures illustrating a range from B-natural, one half-step below the lowest note on the flute, to a D-sharp, nearly an octave below the lowest note on the flute); and a technique known as the "jet whistle", in which the performer forces "too much" air into the instrument resulting in various overtones and sounds that can be manipulated by the soloist.  (Because of the softness of the sounds that result from the first two techniques, those are played with microphone.)
All of this takes place within virtuosic solo displays and much interaction with the orchestra as a whole and in parts, including a fugal section that introduces a new theme for the soloist.  The movement needs no further explanation other than with its combination/juxtaposition of themes it is perhaps a completion of the journey begun in the first movement.
program notes by Mark Laycock © 2014
Listen to Flute Concerto for Jasmine Choi, "Songbird's Journey" here:
https://soundcloud.com/mark-laycock/sets/flute-concerto-for-jasmine-choi
Rental materials for "Flute Concerto for Jasmine Choi" are available from Marla Music Corporation DE. Email