Seeking to benefit from an additional professional perspective?
FOR ADVANCED STUDENTS/CAREER PROFESSIONALS ONLY
Conductors
Composers
Singers
Orchestral instrumentalists
Audition Preparation
Chamber Ensembles
Whenever I am in Berlin, I am happy to meet with you or with your ensemble privately to hear you, to help you with any questions or problems you may have in wanting an additional ear for comments, give feedback for audition preparation, help you with score study, conducting technic, etc.
I had the great benefit of receiving "old world" instruction, having studied viola and chamber music with Max Aronoff and the Curtis String Quartet.  Max Aronoff's teacher was Louis Bailly (born in 1882), and Max was originally concertmaster of the first graduating class of the Curtis Institute of Music before switching to viola, and becoming regarded as the greatest viola teacher of the 20th Century (his students included Joseph de Pasquale, longtime Principal Viola of The Philadelphia Orchestra).  Therefore, my instruction came by way of first-hand knowledge and performance practice of the late 19th Century, where emphasis was on musicality, tone, and color.  These are the fundamentals for musical communication, and without them, no matter how well you play technically, the message behind the music is lost.
Before becoming a conductor, and even after my début conducting The Philadelphia Orchestra at age 21, I continued to play in many orchestras as both principal and section player, and I played for years in a professional string quartet in Philadelphia.  This was followed by years of guest conducting and over 20 years as Music Director of the Princeton Symphony Orchestra.  Additionally, I was for many years a regular member of the panel of judges for ASCAP's Nissim Award for composers.
Having this wealth of knowledge and having conducted well over 2.000 works of all styles and operas with orchestras of every level, and having hired singers, instrumentalists, and conductors,  I am happy to share with you my musical comments and perspective whenever I am in Berlin.
I enjoy teaching very much, and I am very happy as well to participate in master classes whenever my schedule permits.
Please contact me at ml@marklaycock.com for an appointment and for more information.
Dear Maestro Laycock:
 My name is Catalina Rodríguez. I play the violin, and we meet in your masterclass in Bogotá some years ago. I played "La Folia" for you. I hope you remember me, but I attached a picture of that day in case you don´t 🙂
It was wonderful to work with you, because I think you are a great person a musician. I learned a lot from you in that little time we had, and you told me I should write you telling you how everything was going with the violin for me. Here it is a little bit of my graduating recital in june and I would love to hear you commentaries about it!
In about two weeks, I will travel to Russia. I was accepted in the Tchaikovsky Conservatory, so I´m entering to the Preparatory Programme.
I´m sorry for my english, but I hadn´t practiced it in a long…
 Have a wonderfull day, best regards from Colombia,
Catalina Rodríguez Grisales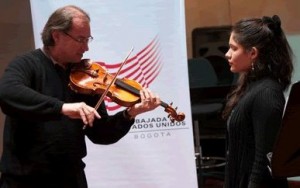 Mark Laycock was invited as the instructor of our conductors of the youth orchestras network of El Sistema in Mexico at our National Conducting Workshop (Encuentro Nacional de Directores). This stimulating musical adventure took place with Mark at the National Arts Center of Mexico with the participation of the flagship orchestra of El Sistema in Mexico, the Carlos Chávez Youth Orchestra, featuring a selected group of the participant workshop conductors to step on the podium to lead the closing concert in front a full house auditorium and Mark receiving the well-deserved accolades from a screaming audience as the demiurge responsible for the fashioning of the successful performance of the designated conductors. A Maestro of Maestros!!
Dr. Armando Torres-Chibrás
National Coordinator of Orchestras at
Sistema Nacional de Fomento Musical of Mexico